Vip Account - Help
HOW TO MAKE SAVINGS WITH THE Vip Account
1. Do you want to know how Laura made a saving of 30 EUR on her last purchase ?
Laura wanted to book a hotel for her next getaway. Looking on the internet, she found an interesting promotion on a travel website (3 days for 300 EUR). She checked whether this page was included on her club and she found it. The promotion mentioned a 10% discount with the Vip Account, which means that by purchasing through the club, Laura paid 300 EUR and after some days she received 30 EUR back through her Vip Account. In the end the trip cost her 270 EUR, so she saved 30 EUR.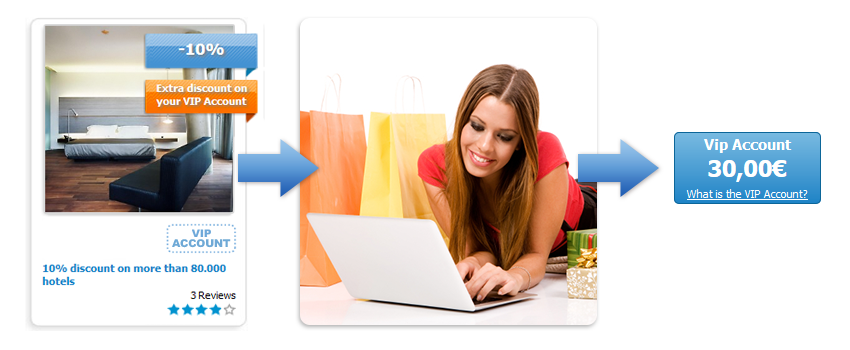 2. Why did Laura pay less?
If we all buy from one supplier and negotiate together, we can get better conditions, right? This is what the Vip Account is based on, i.e., by getting the websites to give us back a part of the amount we have paid by purchasing through our advantage club.
3. What steps does Laura follow to use her Vip Account?
The process for making purchases which Laura follows is like a frequent-flyer program: first she makes the purchase and then she receives a percentage of it back.
Step 1 - Laura chooses a promotion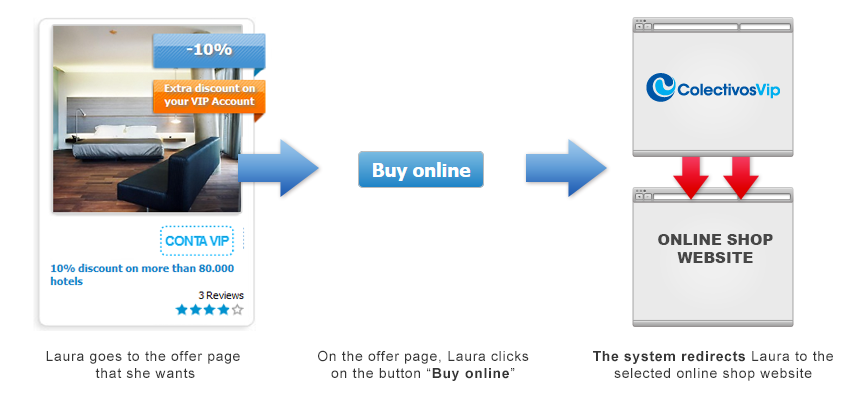 Step 2 - Laura makes her purchases
Laura makes her purchases as she usually would. During the payment process, no reduction appears. This is normal.
Step 3 - The balance of Laura''s Vip Account goes up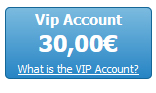 After some days, when the website where Laura made the final purchase verifies it, she receives an email and the balance of her Vip Account goes up according to the discount mentioned in the promotion:
Step 4 - Laura requests payment of her balance
After a few weeks, Laura can see her balance has been confirmed (once the travel website has paid us).

Your CONFIRMED balance: 30,00€

Laura requests a transfer to her bank account from the page, once it reaches a certain limit (10€).

Request a transfer to your current account
HELP
1. What is the Vip Account?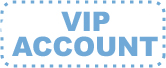 The Vip Account is a personal account where you collect euros for your online purchases when you make them using promotions which bear the Vip Account label:
2. What kind of promotions can be found with the Vip Account?
The Vip Account promotions indicate discount agreements which have been sealed with all kinds of websites where you can make purchases: trips, clothes, presents, technology, restaurants, ...
3. What''s the difference between your provisional and confirmed balance?
As soon as the website confirms your purchase to us, this will appear as Pending on your Vip Account. The total of pending and approved balances is called Your Provisional Balance:
Date
...
Type
Merchant
Description
Amount
Status
11/06/2012 10:58:19
Incoming
Merchant 1
Product 1
32,09
Approved
15/09/2012 15:03:15
Incoming
Merchant 2
Product 2
14,63
Denied
23/09/2012 11:25:55
Incoming
Merchant 3
Product 3
12,02
Pending
26/10/2012 17:01:29
Incoming
Merchant 4
Product 4
18,88
Approved
12/11/2012 18:58:46
Incoming
Merchant 4
Product 4
25,39
Pending
Your CONFIRMED balance: 50,97€
Your PROVISIONAL balance:

88,38€
The confirmed balance can be seen as soon as the website pays us. In this case, the status is Approved and the confirmed balance is the total of all approved balances. Bear in mind that it may take some weeks after until your confirmed balance is available.
In the event that the website does not confirm the payment for some reason, for example a hotel booking which isn''t completed or a returned product, the status will appear as denied.
4. Do all products have the same discount?
No, the discount may be different depending on the product. In any case, this information is detailed in the offer description. When you are redirected to the website, it will try to send you to the area where your chosen product is. If you then go to another area on the online shop and you buy a product with a different discount, it will be teh latter which will be applied when making the payment to your Vip Account.